Create your school's unique onboarding pathways
At O360, we know the advantages created by a comprehensive onboarding solution and have designed our program to maximize benefits.
We will work with you to make sure that your school's unique culture, expectations, and lifestyle can be represented by your onboarding experience
Significant Increase in Teacher Retention
Hires decide in the first 6 months how long they're staying. Make them count.
Increase in Teacher Effectiveness
With roles and expectations clearly defined from the beginning, teachers are more effective, fostering greater student achievement.
Improved Contextualized Teaching
In better understanding their local environment, teachers can cultivate more globally aware students.
Community Integration
Help new staff feel more connected and valued within the school environment, giving them a stronger sense of belonging.
Vision and Mission Alignment
Clearly communicate priorities to new hires and they will more strongly embody them.
The process for your school

Is your school's onboarding program sufficient?
While HR departments work tirelessly to help new hires, often times their job is relegated to answering the same questions for each hire and trying to round up documents needed for visas, work permits, etc.
This leaves very little in the way of welcoming new hires and introducing them to your school's culture.
Most new hires decide how long they're staying at a school within the first 6 months. Make the most of that time.
Work with us to set up a profile for your school that houses all of your onboarding information in one place.
We take every email, PDF, document, and request you have for new hires and extract all the information, centralizing it on your school's profile.
All the instructions, introductions, and requests you make of your new staff is released and kept in digestible pieces, satiating their curiosity but not overwhelming them with emails and links.
Once your employees start reading and completing, we will monitor their progress and update you on any information we find especially important.

Who can this be used for?
Onboarding is a key component in any job, but especially for positions in a school. We believe in putting your best food forward with all new hires, not just teachers.
As such, we can create custom onboarding pathways for many types of staff:
International teachers
Local teachers
Substitutes
Incoming administrators
Maintenance workers
PTA members
More
By going in with complete expectations, your employees will be much more successful in their roles. Let us help you get there!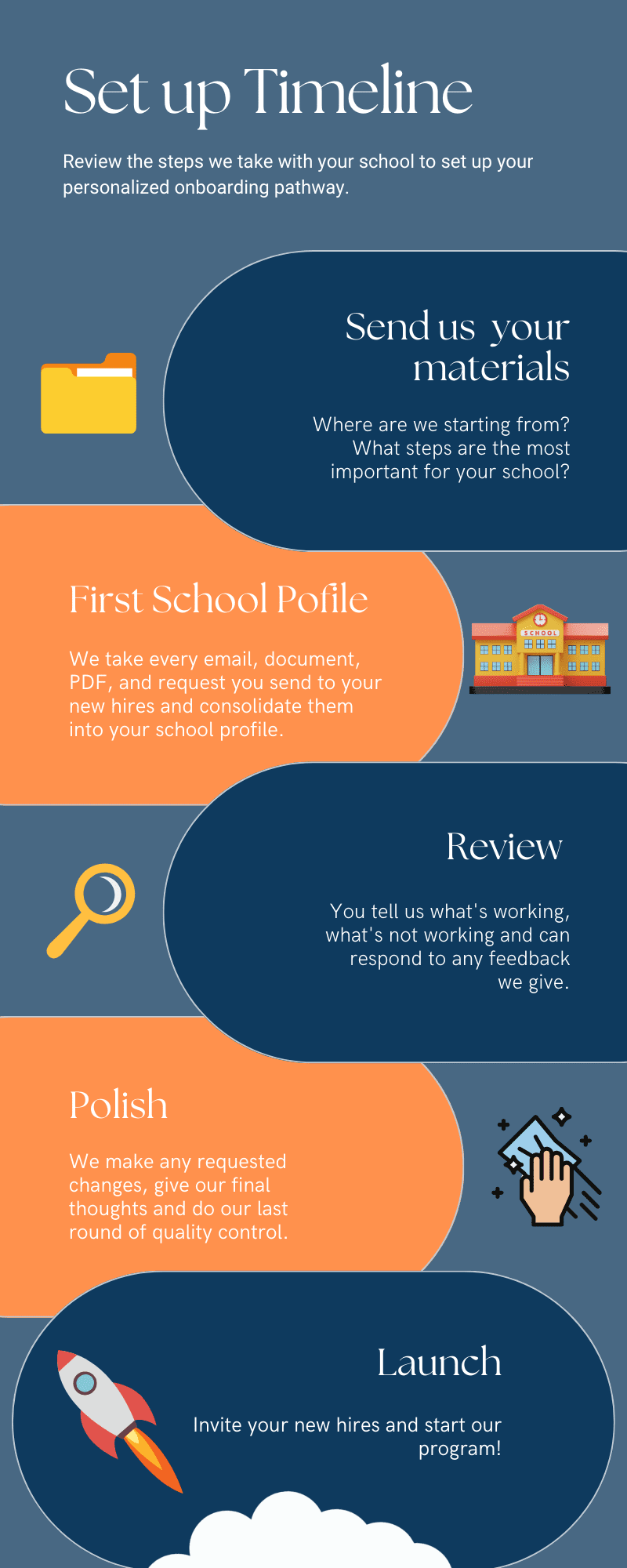 © 2022 All Rights Reserved.